Brownfields Program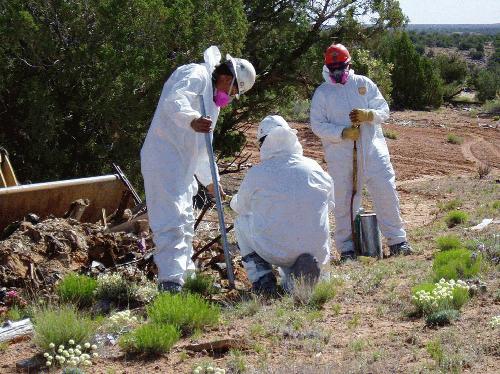 In 2003, the Environmental Programs Department (EPD) initiated the Brownfields Tribal Response Program. Brownfields sites are areas affected by the presence of a hazardous substance, pollutant, or contaminant. Cleaning up these sites protects the environment and health of Tribal members and reintroduces them for potential future uses.
Ute Mountain Ute Tribe's Brownfields Program has focused on redeveloping the Tribal property contaminated by past activities where no responsible party to mitigate the contamination issue could be identified.
The Program provides technical assistance, including environmental inventories and assessments, clean-up project assessments, dump closure planning, site clean-up and closure, as well as undesirable event identification and responses. An integral part of the Program technical assistance is training opportunities for the Tribe's land managers. In the past, the EPD staff and Emergency Responders gained experience in dealing with hazardous material spills that have occured on highways, water ways or oil fields through the Program. The Program also led seminars for the Tribal members; upon completion, some Tribal members were awarded with employment in the Tribal Enterprises. The Program looks forward to offering more training to Tribal members who may be interested in environmental career opportunities.